GRatio for ImageJ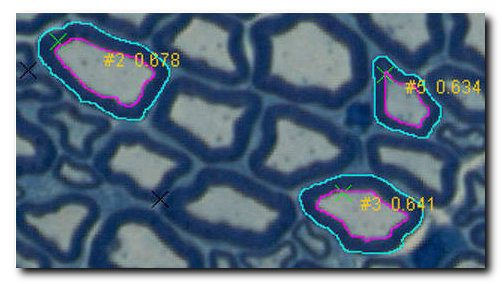 Download latest version here.






GRatio for ImageJ was used for the following publications:
Goebbels S, Oltrogge JH, Kemper R, Heilmann I, Bormuth I, Wolfer S, Wichert S, et al.
Elevated phosphatidylinositol 3,4,5-trisphosphate in glia triggers cell-autonomous membrane wrapping and myelination.
J. Neurosci. (2010), 8953--8964.
Bull S
Mechanisms Promoting Myelin Formation and Maintenance Under Normal and Pathological Conditions.
Biol. Diss. Montreal, Canada (2011).
Goebbels S, Oltrogge JH, Wolfer S, Wieser GL, Nientiedt T, Pieper A, at al.
Genetic disruption of Pten in a novel mouse model of tomaculous neuropathy.
EMBO Mol Med (2012), 486--499.
Cognat E, Cleophax S, Domenga-Denier V, Joutel A
Early white matter changes in CADASIL: evidence of segmental intramyelinic oedema in a pre-clinical mouse model.
Acta Neuropathologica Communications (2014), 49.
Bull S, Bin JM, Beaumont E, Boutet A, Krimpenfort P, Sadikot AF, at al.
Progressive disorganization of paranodal junctions and compact myelin due to loss of DCC expression by oligodendrocytes
J. Neurosci. (2014), 9768--9778.
Beirowski B, Babetto E, Golden Ju, Chen YJr, Yang K, Gross R, at al.
Metabolic regulator LKB1 is crucial for Schwann cell-mediated axon maintenance.
Nat. Neurosci. (2014), 1351--1361.